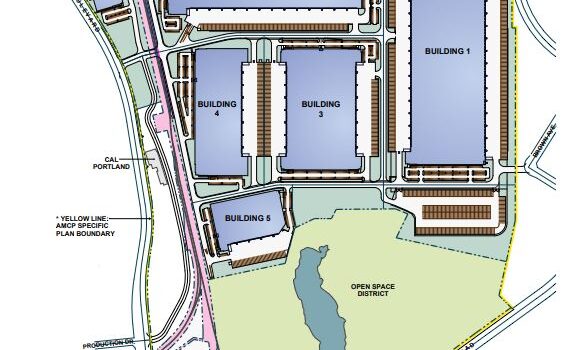 The Agua Mansa Commerce Park Specific Plan is a proposed industrial business park with retail overlay and open space development located on the former Riverside Cement facility. The Specific Plan area encompasses approximately 302.8 acres of land in the City of Jurupa Valley, California. The project would consist of three primary land uses: 1) an Industrial Park, 2) a Business Park (with possible retail component) and 3) Open Space.
The Industrial Park district is 189.7 acres and would allow for 4,216,000 square feet of industrial park uses, such as manufacturing; research and development; fulfillment centers; e-commerce centers; high-cube, general
warehousing, and distribution; and cross-dock facilities. The Business Park district is 33.8 acres and has two options for development: Alternative 1 would develop 200,000 square feet of business park uses; Alternative 2 would develop up to 25,000 square feet of retail and/or food service uses as well as 150,000 of business park square footage. The Specific Plan allows for an additional 41,000 square feet of Business Park use in the CalPortland area either through expansion of the existing building or new construction. The Open Space District is 70.9-acres.
Ganddini Group prepared a traffic impact analysis for the project.